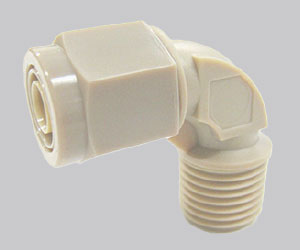 Features
Improved work efficiency due to integral sleeve nut.
No need to exchange the sleeve for repeated use. In use of repetition.
Small inner surface roughness.
Excellent flow characteristics.
Light weight.(80%weight reduction compared with stainless steel.)
Little liquid accumulation.
Improved tube detachability.
Good heat resistance and high strength.
Low sliding friction and less wear.
Excellent chemical resistance.
Download
CatalogPDF
Material
PEEK
Applicable Tube
AMIDFLEX Tubes
Oil , Chemical Resistance Tubes
Multilayer Fluorine Tubes
Fluorine Resin Tubes
(AX)
(PET(D63))
(REF5)
(FE)
Fluid used
Air, Water, Oil, Paint, Ink, Solvents.
Model
Model No.
Part No. of Standard Type
Applicable Tube O.D.(

φ

)
Screw Size
PSH
Male Connector
6, 8, 10, 12
R1/8, 1/4, 3/8, 1/2
PSL
Male Elbow
6, 8, 10, 12
R1/8, 1/4, 3/8, 1/2
PSH-GNT
Male Connector with packing
6, 8, 10
G1/4
PSL-GNT
Male Elbow with packing
6, 8, 10
G1/4
PSS
Equal Union
6, 8, 10, 12
-
PST
T Type Union
6, 8, 10, 12
-
PSN
Integral Sleeve Nut
6, 8, 10, 12
-