BRASS W-INTERLOCK JOINT BW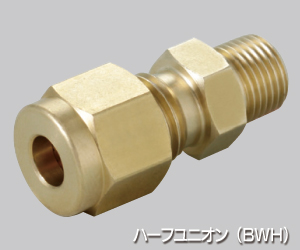 Features
Having resistance to high temperature, high pressure, and ultra low temperature.
Tightening torque is small, and no torsion is caused.
Excellent resistance to a shock and vibration.
No seizing is caused in the screw part of a nut.
Can be used in the vacuum line.
Superior in desorption repeatedly.
Download
CatalogPDF
CAD (2D)
Material
BRASS
Applicable Tube
Mainly pipe of the following copper stipulated by JIS H3300:Oxygen-free copper(C1020), Tough pitch copper(C1100), Phosphorous deoxidized copper (C1201,C1220).
Model
Model No.
Part No. of Standard Type
Applicable Tube O.D.(

φ

)
Screw Size
BWH
Male Connector
4 , 6 , 8 , 10 , 12
1/8 , 1/4 , 3/8 , 1/2
BWL
Male Elbow
4 , 6 , 8 , 10 , 12
1/8 , 1/4 , 3/8 , 1/2
BWT
T Type Union
4 , 6 , 8 , 10 , 12
-
BWS
Equal Union
4 , 6 , 8 , 10 , 12
-
BWF
Union Elbow
4 , 6 , 8 , 10 , 12
-
BWE
Bulkhead Union
4 , 6 , 8 , 10 , 12
-
BWEP
Bulkhead Female Connector
4 , 6 , 8 , 10
1/8 , 1/4 , 3/8
BWK
Female Connector
4 , 6 , 8
1/4 , 3/8
BWP
Female Connector
4 , 6 , 8 , 10 , 12
1/8 , 1/4 , 3/8 , 1/2
BWC
C Type Connector
4 , 6 , 8 , 10 , 12
1/8 , 1/4 , 3/8 , 1/2
BWD
D Type Connector
4 , 6 , 8 , 10 , 12
1/8 , 1/4 , 3/8 , 1/2
BWVH
Miniature Valve(H Type)
6 , 8
1/8 , 1/4
BWVD
Miniature Valve(D Type)
6 , 8
1/8 , 1/4
BWVS
Miniature Valve(S Type)
6 , 8
-
BWN
Cap Nut
4 , 6 , 8 , 10 , 12
-
BWFF
Front Ferrule
4 , 6 , 8 , 10 , 12
-
BWFR
Rear Ferrule
4 , 6 , 8 , 10 , 12
-
BWI
Insert Ring
Applicable Tube O.D.×I.D.(mm)
4×2.5 , 4×2 , 6×4 , 8×6 , 8×5.7 , 10×7.5 , 10×6.5 , 12×9.2 , 12×9 , 12×8.9
Applicable Tube
AX-1204–AX-1212 , F-1504–F-1512 , U-9504–U-9512
* Please use when connecting plastic tube.
* Material:C3604BD